Fall Services
Pool Closings 2017 
---
Pool Builders Ltd. offers a free pool closing to all our first-year pool owners. We also offer winterizing services for all our past clients as well. To book your 2017 pool closing, please contact Shanelle at 613-831-0069 Ext. 12 or by email at shanelle@poolbuildersottawa.ca.
Closing Service with Chemical kit $243.00  HST included
Before the pool is closed, it is strongly recommended that you balance the pH and chlorine levels as well as vacuum your pool so to minimize algae build up over the winter months. The pool water level needs to be lowered to 1  to 2 inches below the returns prior to the winterizing service. To learn how to lower your water level please watch our how-to videos.
Included in Closing Service
Remove pool ladder and required pool fixtures
Blow out all pool plumbing lines (including step jets, waterfalls, slides and deck jets)
Add anti-freeze
Add Chemical Kit
Insert frost plugs and gizmo
***Past clients are to provide plugs and gizmo or extra fee of $5 per plug and $10 for the Gizmo plus HST  will apply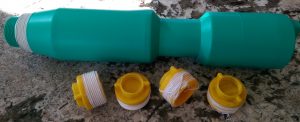 Additional Services
Winterizing of spillover spa or solar heating system $50.00 HST included
Installation of a mesh safety cover $84.00 HST included
Additional chemical kit for larger pools $50.00 HST included
Pentair Intellichlor Acid Wash $80.00 HST included
Days that we will be closing pools in your area
Mondays: Stittsville
Tuesdays: Nepean/ Barrhaven/ Manotick
Wednesdays: Ottawa Center / Riverside South / Greely / Orléans
Thursdays: Kanata/ Richmond/ North Gower / Kemptville
Fridays: Kanata North/ Carp/ West Carleton / Carleton Place
---
 Safety Covers
The Advantages
Safety covers are a great way to protect both your loved ones and your pool over the winter months. The mesh material allows water to seep through the cover, thus, the pool is naturally refilled by precipitation. Each cover is custom manufactured to fit any pool shape, size, and water features.  The drilled deck anchors allow for the cover to remain firmly in place while keeping the pool area aesthetically pleasing throughout the off-season.
Our Cover
Our safety covers are provided by CoverLogix which is part of Lathem Pool Products. The 5000M standard mesh safety cover is available in blue, grey, green or tan. We recommend a 3'x3′ grid for freeform pools and a 5'x5′ grid for rectangle pools. Rectangle pools larger than 18'x36′ should use a 3'x3′ grid.
Getting a Cover
If you are interested in purchasing a safety cover, please contact shanelle@poolbuildersottawa.ca for an estimate. The average cost for a cover ranges from $2,500 to $4,000. Prices vary depending on the size and shape of your pool as well as the amounts of cutouts for water features. We require a 50% deposit when the cover is measured and the remaining balance after installation. The installation of your safety cover will be coordinated along with your pool closing.

*See our blogs for more information on Pool Closings and Openings